UQM Technologies started in 1967 as a manufacturer of fiberglass components for aircraft and kit cars. It is known historically for the "Electrek", an electric passenger vehicle built in the late 1970s. Today UQM manufactures both AC and DC motors and controllers, ranging anywhere from 1.5kW - 150kW.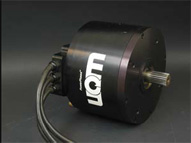 Ad blocker interference detected!
Wikia is a free-to-use site that makes money from advertising. We have a modified experience for viewers using ad blockers

Wikia is not accessible if you've made further modifications. Remove the custom ad blocker rule(s) and the page will load as expected.