Miles Automotive was founded by Miles Rubin with the goal of creating the a functional and competent car that everyone could afford. Based in Los Angeles, CA, Miles EV imports it's current line of vehicles from China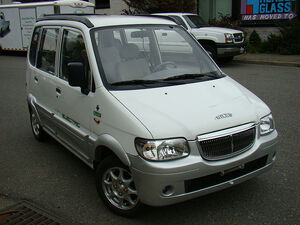 Propulsion
Edit
Most of the current models of Miles vehicles (anything without "advanced" in the name) are using DC motors.
DC motors on older models AC motors on news models
Unless otherwise noted, most often Lead Acid batteries are used.
Transmission
Edit
The range of the current models is estimated at 40-60 miles per charge (no pun intended)
ZX40
ZX40S
ZX40S (Advanced)
ZX40ST (Work Truck)
Price Range
Edit
$18,000 - $30,000
Ad blocker interference detected!
Wikia is a free-to-use site that makes money from advertising. We have a modified experience for viewers using ad blockers

Wikia is not accessible if you've made further modifications. Remove the custom ad blocker rule(s) and the page will load as expected.