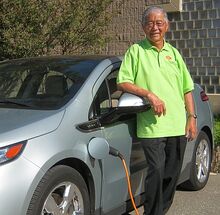 Dr. Andrew A. Frank (Andy Frank) is an Emeritus Professor, Department of Mechanical and Aerospace Engineering, University of California, Davis.[1] Professor Frank and his Team FATE students have been leaders in electric vehicle engineering since the 1970's.[2]
In 2006 Dr. Frank and others established Efficient Drivetrains, Inc. (EDI) to commercialize the patents from his electric vehicle inventions at UC Davis.
.
Level 1 EV Battery Charging
Edit
Dr. Frank supports Level 1 charging as the predominant EV battery charging infrastructure that we should build. "While not a market maker for the new charging infrastructure industry, using Level 1 is the fastest, most convenient, most economical and benign way to grow the PHEV and BEV market!" [3] [4] [5] [6]
.
Publications and Patents
Edit
See Andy's work on engineering of electric vehicles: AAFrank publications at UC Davis, AAFrank at Google Scholar, AAFrank at MS Academic Search, AAFrank at SAE International, AAFrank at Google Patents, AAFrank patents at UC Davis.
.
Social Media
Edit
Updates from Andy Frank: Andy Frank at Facebook, AAFrank at LinkedIn, AAFrank at Google+, AAFrank at YouTube
.
References
Edit