Founded by Alan Cocconi in 1992, AC Propulsion. The company develops and produces electric drive systems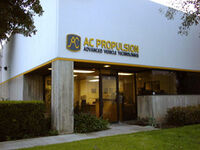 AC Propulsion is the originator of the AC-150 EV Power System, their most popular AC motor and power train system. The system is available for purchase as a kit or can be installed into a New Scion xB as a part of the eBox product.
Since 1992, and the proof of concept that the AC-150 has provided, several companies have developed
Ad blocker interference detected!
Wikia is a free-to-use site that makes money from advertising. We have a modified experience for viewers using ad blockers

Wikia is not accessible if you've made further modifications. Remove the custom ad blocker rule(s) and the page will load as expected.